Projects developed during Fall 2017 and Spring 2018 Semesters
Gender Identity and Sexual Orientation – Resources for Foreign Language Teaching
by João Nemi Neto
Columbia University has been supportive towards gender and sexual identity for a long time. The University is recognized as the first American university to sponsor a LGBT association. Nowadays, there are a number of LGBTQAI+ Associations on campus that are active and aim at helping students.
This initiative brings the discussion regarding representation of these minorities into the classroom. It aims at teaching practices making part of the learning process. Therefore, fostering inclusion and an open dialogue among faculty, students, and the community as a whole.
This project is meant for all instructors interested in understanding questions of gender and sexual identities. TAs, TFs, lecturers, professors and other teaching/ research positions are welcome to exchange ideas and propose solutions for questions of visibility and respect.
[ website ]  [ project presentation ]  [ slides ]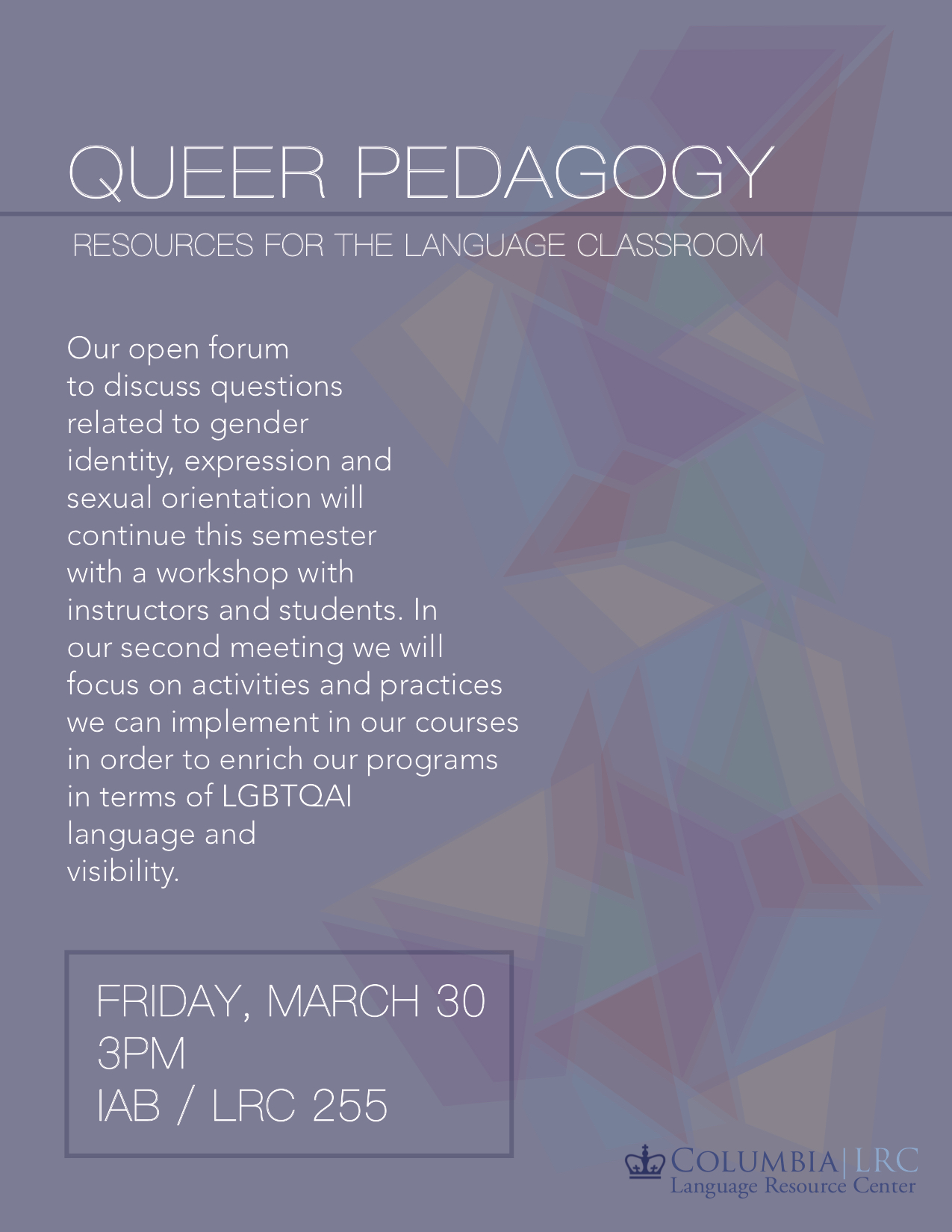 Video Subtitles in the Teaching of Modern Tibetan
by Sonam Tsering
One of the greatest problems faced when teaching Modern Tibetan is the lack of quality teaching and learning materials. There is no single textbook that is specifically designed to teach Modern Tibetan as second language in higher education in western universities. Columbia started offering Modern Tibetan language course since 1999, and textbooks written in any given language for the purpose of teaching Modern Tibetan as a second language are limited. This lack of quality teaching and learning materials presents pedagogical problems at all proficiency levels.
In order to resolve this deficiency the author of the project identified a particularly useful Tibetan language TV drama called "A Joyful Life". Material from the show was used to make clips that help to bridge the gap between native, colloquial content and the classroom by developing a prototype set for use as part of the second-year Tibetan course.
In total, 90 clips were created for this project. The materials developed aimed to accurately reinforce and supplement in-class learning by providing additional exposure to native Tibetan conversations.
[ YouTube repository ] [ project presentation ]  [ slides ]