Projects developed during Fall 2018 and Spring 2019 Semesters
Learning Japanese Prosody in Context:  Finding and Creating One's Voice
by Asami Tsuda and Fumiko Nazikian
This project is based on the "Imagining an Alternative: "もし〜だったら What if?" project we conducted in Fall, 2017 for a Second Year Japanese I course at Columbia University. Students will aim to successfully engage in uncomplicated communicative tasks, and to express personal views on day to day issues by using 3 modes of communication: 1. Presentational Mode (Spoken or written communication prepared for an audience and recited), 2. Interpretive Mode (Comprehension of written, oral, and/or visual communication), and 3. Communication Mode (Two-way oral or written communication). The purpose of this project is to provide our students of an approximately intermediate proficiency level with the skills mentioned above, especially (a) critical thinking and problem solving skills (b) creativity, innovation, curiosity, imagination, (c) decision-making skills, (d) flexibility and agility, (f) various literacy (information, technology, media, cultural, etc.) as well as to increase opportunities for students to communicate outside of the classroom. Students will exchange their ideas and thoughts with other Japanese learners and native speakers online, which would help students use (g) cross-cultural communication skills. We believe this will also give students opportunities to exchange ideas and learn from a larger audience that ranges from students outside of the class/level of Japanese to Japanese native speakers in New York and Japanese people in Japan. This will also help students have access to authentic language used by native speakers whom they might not have interacted with otherwise, were it not for technology.
  [ project presentation ]  [ slides ]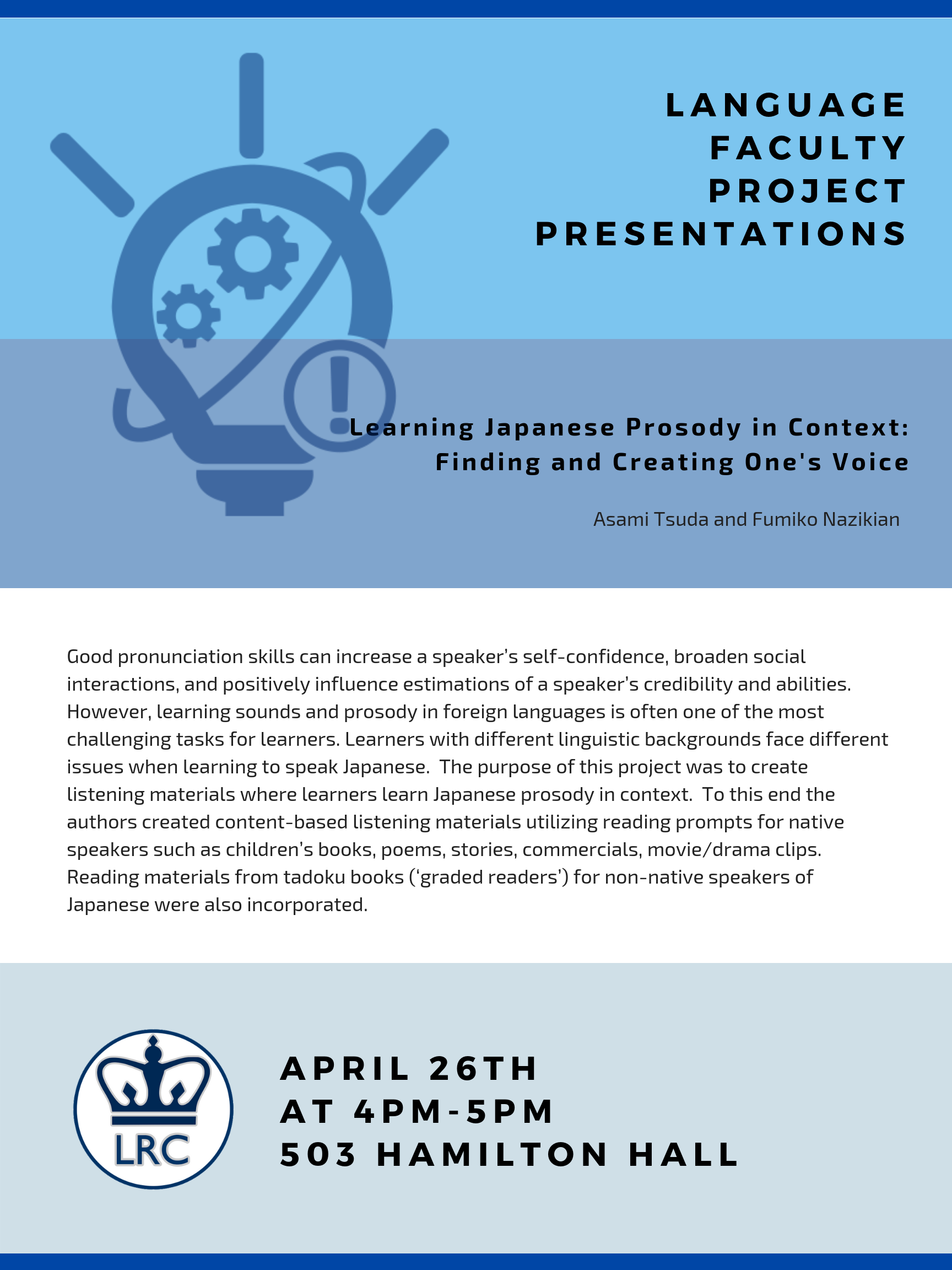 Elementary Bosnian, Croatian, and Serbian Learning Companion (Stage 2)
by Aleksandar Boskovic
Following the success of the exploratory project in Spring 2018, where several types of teaching materials were piloted and student feedback and outcomes collected, this project aims to improve and expand upon the materials made, and consolidate them into a comprehensive learning companion that would cover the entire first year of learning Bosnian/Croatian/Serbian from the already existing textbook. This companion will be based on the resources we designed for the pilot project: it will contain situational texts that contextualize target vocabulary, dialogues, grammatical exercises, illustrations that help memorize vocabulary and grammar, audio exercises, and prompts for speaking exercises. However, it will be much more robust in the quantity of materials for each unit covered throughout the first year of learning, and improved qualitatively based on the feedback garnered from the pilot project. The texts will be presented in the Serbian language standard, as it is the only one that is written in both the Cyrillic and Latin scripts; only the main grammatical differences between the three language standards will be addressed. The audio exercises will be recorded in all three standards to ensure equal listening comprehension. Special attention will be paid to the graphic design and visual presentation of these texts, exercises, and grammatical information, as good visual presentation was found to be instrumental in ensuring a more streamlined and coherent learning experience.