Projects developed during Spring 2019 and Fall 2019 Semesters
Integrating Authentic Heritage Language Culture in the Teaching of Romanian Mixed Distance Classes (Elementary and Intermediate)
by Mona Momescu
The project aims to explore the creation of a limited inventory of teaching materials based on sociolinguistic particularities and cultural ("aspirational and relational needs") of the actual generation of Romanians residing in the NYC area and in the neighboring states- PA, CT, NJ These materials (reading units, " culture pills" used as teaching resources) will be created in accordance with the particularities of the interviewed/recorded speakers, including members of the families of former students, or friends who speak the language as HS. As I practiced similar diagnose interviews in the past, I have reasons to believe that the envisaged categorie of speakers will participate to this project, as well.
[ project presentation ]  [ slides ]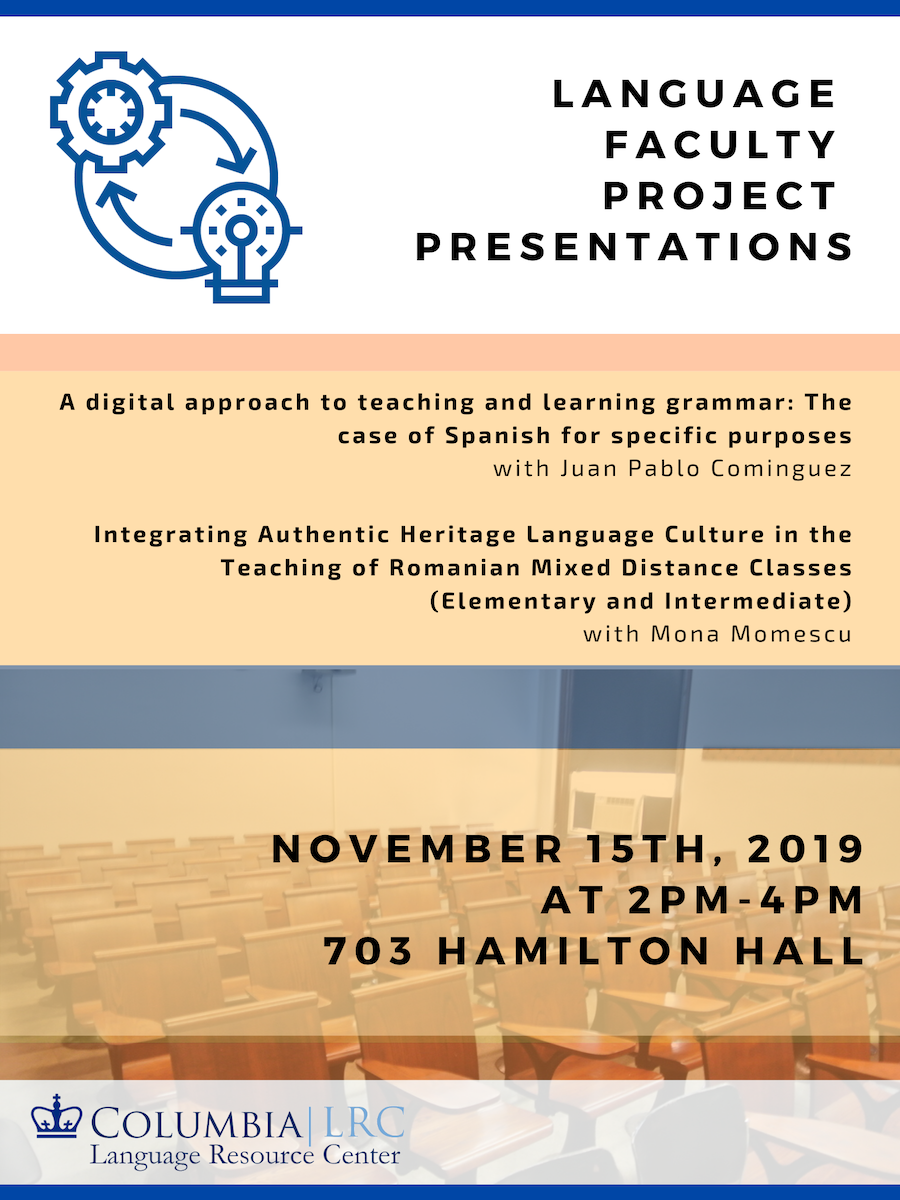 Interactive Digital Resources for Learning and Teaching Grammar in a Medical Spanish Class
by Juan Pablo Cominguez
The project proposes the creation and implementation of online digital materials that would supplement the current resources that used in Spanish 2103. As a first step in the creation of these materials to develop the grammatical competence of Spanish learners taking this course, a series of video clips will be created. The clips will introduce the main grammatical contents of the course, along with a series of interactive grammar exercises. Both the video clips and the exercises will be related to health topics explored in the course, and will be consistent with a flipped classroom approach to the teaching and learning of grammar. A flipped classroom instructional strategy will make it possible for students to acquire the material by facilitating the processing of the content in asynchronous and synchronous ways through online collaboration and discussion of grammar content connected to health-related topics. This strategy will save in-classroom time for further oral proficiency development and face-to-face discussions. Finally, and to fill the current gap in the existence of these materials, the project intends to develop an open source – website – for Columbia University and other institutions that makes these resources available.
[ project presentation ]  [ slides ]